Tuba Skinny (New Orleans) Aussie Tour + TWO new albums.
---
---
TUBA SKINNY (New Orleans)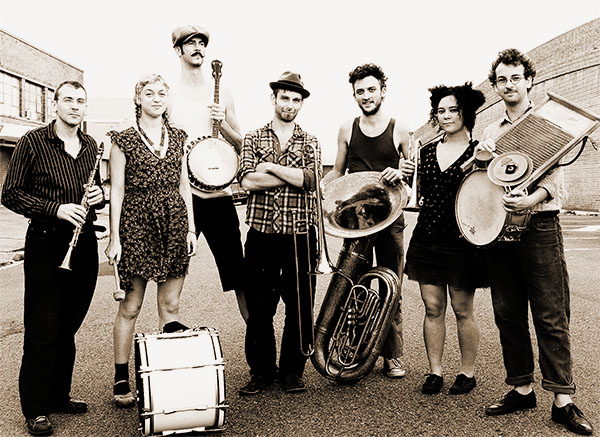 Return for their FOURTH Australian tour with two new albums for sale at shows: "Pyramid Strut", recorded in Tasmania by Chris Townend on their last tour and their new album "Owl Call Blues". Book fast, their last tour was FULLY sold out. 
The members of Tuba Skinny migrated to New Orleans independently of each other, all with the desire to play music.  They met on the streets and began busking together then travelling around the United States, riding freight trains and making music wherever they would go, originally as the "Dead Man Street Orchestra". While on tour, hurricane Katrina struck New Orleans. Though the city was left devastated and flooded, most of them knew, without a doubt, that this was the place that they would call home.
In 2009 Tuba Skinny was consolidated. The band played in the streets concentrating their music to the roots of jazz and the blues of the south. Visitors and locals alike would come to the French Quarter and watch them play, and they grew their crowd. Not long after their conception they decided to fly to Europe, where they built bikes and rode through the French countryside drinking wine and stopping to play on sidewalks, in town squares, around campfires and at the beach. It was during this trip that they played a very a good rendition of Bessie Smith's "St. Louis Blues" on the street at the request of a festival programmer and we're subsequently invited to return the following summer to play at The Festival de Jazz in Vitoria-Gastiez, Spain.
Since this initial European trip, the group have continually been invited and re-invited to major European, Australian, Canadian and USA festivals. They have seen the growth of their audience from word of mouth, the international swing dance community, uploaded youtube videos (most infamously via Boing Boing) and their barnstormin', dance driven live shows.
Watch Tuba Skinny performing live for ABC Radio here:
https://www.youtube.com/watch?v=ffXQ6qH3gwU
 "If Woody Allen ever runs out of scratchy old records to use in his films, he might well turn to Tuba Skinny to provide a new take on traditional jazz and blues." Roll Magazine (USA)
"The music is magical, you get the feeling that Tuba Skinny isn't just recreating this music, but has somehow been transported in time from the roaring twenties to the streets of today." (The Daily Freeman).
TOUR DATES
September
Wed 24th
Fly By Night, Perth
www.flybynight.org
Thurs 25th
Jazz Cellar, Mt. Hawthorn
http://bit.ly/1uFD9Yb
Fri 26th & Sat 27th
Wave Rock Weekender, Hyden
www.soulhighway.com.au
Sun 28th
Clancys Fish Pub, Dunsborough
www.clancysfishpub.com.au
October
Thurs 2nd
Governor Hindmarsh, Adelaide
http://bit.ly/1A924Xu
Fri 3rd
Mullumbimby Civic Hall
www.mullummusic.com
Sat 4th
The Zoo, Brisbane
http://bit.ly/1oRAQMN
Sun 5th & Mon 6th
Caloundra Music Festival
www.caloundramusicfestival.com
Thurs 9th
The Heritage Hotel, Bulli
http://bit.ly/1vWfEif
Fri 10th
Gearin Hotel, Katoomba
http://bit.ly/1vzRnOP
Sat 11th & Sun 12th
The Basement, Sydney
http://bit.ly/1oZ2w6S
Sun 12th (Arvo)
Six String Brewing Co. Erina
www.sixstringbrewing.com.au
Wed 15th
Republic Bar, Hobart
http://www.republicbar.com/gigs.php
Thurs 16th
Theatre Royal, Castlemaine, Vic
http://bit.ly/1lrIK4t
Fri 17th, Sat 18th, Sun 19th
Melbourne Festival, Vic
http://bit.ly/1rjZ8lz
For more info contact Jordan Verzar – email: jordan@topshelf.com.au  ph: 0408 962 319
---
---