VIEUX FARKA TOURE (MALI)
---
---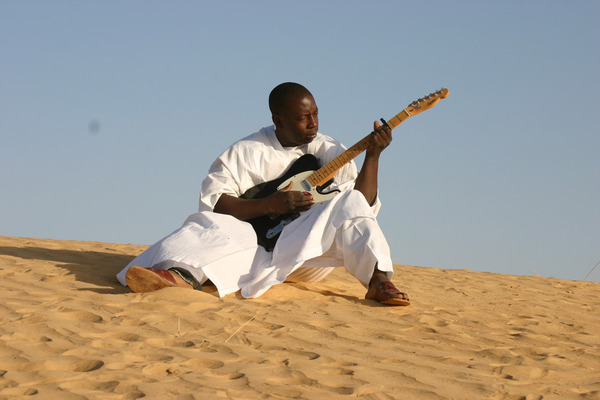 VIEUX FARKA TOURE (MALI)
Australasian Tour 2016-2017
"The Hendrix of the Sahara…" All Music Guide
"Vieux Farka Toure's group is the best fucking rock band in the world" – Don Was (Producer: Rolling Stones, Bob Dylan)
"Mali has a new guitar God, and his name is Vieux Farka Toure" – FADER
Vieux Farka Toure was born in Niafunké, Mali in 1981. He is the son of legendary Malian guitar player Ali Farka Toure, who died in 2006.
Fresh off opening the World Cup and bringing down houses on 4 continents last year, Vieux Farka Touré is poised to become Africa's preeminent axe-man. Vieux Farka Touré's career in music would never have happened if his illustrious parent, African blues legend Ali Farka Touré, had his way. Ali felt that the music business was a harsh place to work and preferred that Vieux enlist in the army. But young Vieux, destined for the stage, honed his skills on the guitar in secret and eventually found a mentor in Toumani Diabate, and his own talents eventually convinced the elder Farka Touré that a second generation of music prowess was inevitable.
This is music from a contemporary Africa – urban, sophisticated, globally connected but deeply proud of its ancient heritage. This is the old/new Africa that Vieux represents. Vieux's is the music of an Africa that rocks, and yet still hears the camel'stread in the sand. It is this unique combination of stunning guitar virtuosity and North Malian traditional roots that have prompted many critics and fans alike to dub Vieux "The Hendrix of the Sahara".
"Vieux Farka Touré has really found his place with the legacy of his father as a dynamic figure in contemporary African music." ****Evening Standard
"He can hold his own with any of the guitar greats, from any era."
-All Music Guide
Dec 2016 & Jan 2017: Australasian Tour
December
28th – 31st: Woodford Folk Festival
https://woodfordfolkfestival.com/

January
Sunday 1st: MONA, Hobart, TAS  
ON SALE SOON!
Wednesday 4th: Sol Bar, Maroochydore QLD 
http://solbar.oztix.com.au/?Event=67756
Thursday 5th: Mullumbimby Civic Hall, Mullimbimby NSW 
http://www.redsquaremusic.com.au/
Friday 6th: Bellingen Memorial Hall, Bellingen NSW 
www.ticketebo.com.au/vieux
Saturday 7th: Summer Of Soul Festival, Meeniyan VIC 
http://lyrebirdartscouncil.com.au/category/summer-of-soul-2017/
Sunday 8th Caravan Club, Oakleigh VIC 
http://www.caravanmusic.com.au/
Friday 13th: Shanghai Symphony Hall, China
http://www.shsymphony.com/item-index-id-596.html
Sunday 15th: Beijing
ONSALE SOON!
Links:
https://www.youtube.com/watch?v=0ZE6a_rg8RQ
https://www.youtube.com/watch?v=qhyxI24OCDg (Feat. Jeff Lang)
https://www.youtube.com/watch?v=8QV4eXHOoW8
For further info & more photos contact: Jordan@topshelf.com.au or (02) 9519 4149
---
---