Warsaw Village Band
---
---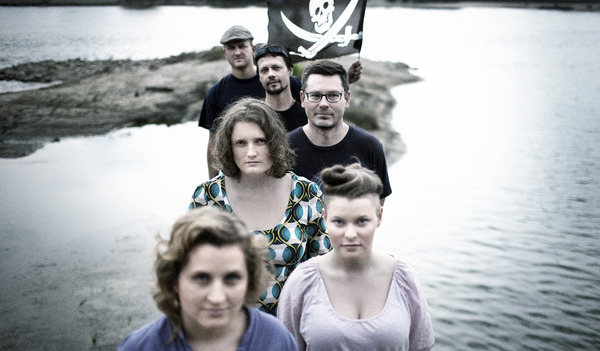 The Warsaw Village Band was found in 1997 as a response against the narrow-mindedness of the music scene which they believed was leading to the destruction of human dignity. That is why they turned to their roots in search for musical inspiration by "exploring the folklore and archaic sounds of their ancestors and instincts".
"Traditional Polish songs, with their cutting vocals and meshed fiddles are the foundation of Warsaw Village Band's repertory. But while their lineup is primarily acoustic – hand drums, hammered dilcimer, violins, cello – their sensibilities are modern. THIS IS THE SOUND OF GLOBALISATION"THE NEW YORK TIMES
Since their early beginnings, the group has toured the world over countless times, received composition commissions for video games and movie sound tracks, theatre productions and topped the world music charts repeatedly worldwide. The British BBC honored the band with a sixty-minute portrait which has been broadcast in several European countries. The Warsaw Village Band is the most successful Eastern European ensemble outside the mainstream.
Cut to 2012 and their most current album, NORD, is charting at #2 in the European World Music charts and the band are about to embark on their first ever trip to Australia.
The Warsaw Village Band is a symbol of young, intelligent Eastern European music which combines tradition with modern elements and is capable of eliciting enthusiastic responses from rock audiences and traditionalists alike.
WVB's signature sound is indeed formed by uncompromising traditionalism, updated with a guttural punk rock aesthetic.(BBC WORLD)
"The success of the WARSAW VILLAGE BAND stems from its musicians' great love for their national musical heritage and their will to preserve the old musical traditions. For these musicians, however, preservation does not mean restoration but – as we have experienced with 'The Pogues' or 'Les Negresses Vertes', for example – reanimation, ie; the transportation of the old songs' spirit into the here and now. Polka gets a shot of Techno, and despite the acoustic instrumentation, the band conjures up sounds that have electronic impact."
Australian Tour Dates:
Dec 28th – Jan 1st: Woodford Folk Festival, QLD.
3rd Jan: Woombye Pub, QLD. – With Vishten (Canada),
4th Jan: The Factory Theatre, Marrickville, Sydney, NSW – POST FESTIVAL  The Crooked Fiddle Band..
For more info: jordan@topshelf.com.au or (02) 9519 4149.
---
---